Zalman ZM-VE300 Portable HDD Enclosure Review
For engineers like us at Resolve having our tools to hand is very important, and we are always looking for new, innovative ways to improve the way we work and make life much easier when helping our clients. As with most engineers in the trade we all carry around a bundle of CD's & DVD's to help us whether we need to repair Windows XP, the many versions of Windows 7 or just install an updated version of Microsoft Office. Nowadays there are more versions of everything. With 32bit and 64bit applications popping up, this means more and more optical media. Not only were our CD wallets busting at the seams but as we only carried 1 version of each disk - if the disk became unreadable we unable to complete the task undertaken. While having a general moan about this with my colleague Dan Wynne he suggested trying out a Zalman device. So I did.
What is the Zalman ZM-VE300?
This device is a 2.5" hard disk enclosure with a virtual optical drive built in to the hardware. It is powered by USB 3.0 and is backwards compatible. Basically this machine acts like an external hard disk within Windows (or any other OS) but can be used to mount ISO's onto its virtual DVD drive which will be picked up by the BIOS of all computers.
How does it work?
The unit face has a small LCD screen with a navigation trigger on the side and a button on the top used to either move backwards in the menus or if held down will create a backup of your data onto your computer.
The hardware has 3 modes which are activated using the controls:
Hard Disk Drive - The device shows up as a single hard drive where you can copy CD images or any other data onto the disk
Optical Disk Drive - The device shows up as an optical disk drive either empty or with the ISO mounted
Dual Mode - Both the hard disk and optical drives both show up and can be used together
The Zalman ZM-VE300 is very easy to use. The controls work well and there is very little that needs configuring before use. The hard drive you choose to use in the unit must be a 2.5" hard disk with a SATA connection.
How did we use it?
For me personally this will be used to replace the many CDs, DVD's and memory sticks I have been using for what seems an infinity. My folder structure looks like this:
The _iso directory is the only directory that can be navigated by the Zalman, any folders outside of this cannot be seen.
For additional speed a Solid State hard disk (SSD) was used in my Zalman. Through USB 3.0 we were able to install Windows 7 Ultimate x64 on to a Core i5, 4GB RAM laptop in 10:48. Installing the same image from a DVD took a total of 20:26, almost twice as long!
Are there any issues?
Getting everything to work perfectly wasn't the easiest thing to do - hours were spent on Google trying to find fixes and workarounds. Hopefully now I have done the legwork, you won't have to.
Cannot Install Windows 7 on a USB 3.0 port
Unfortunately Windows 7 does not natively support USB 3.0 ports. During installation you will get the following error: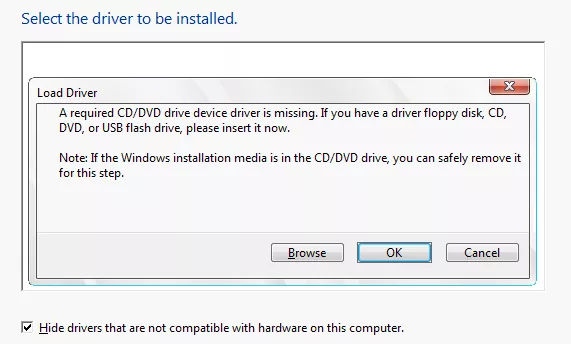 This will happen when you try to install Windows 7 from any device using USB 3.0.
Please see my previous article about installing Windows 7 via a USB 3.0 port to fix this problem.
Drive does not power on
If this is happening you are most likely using a netbook or another low powered USB device. Unfortunately netbook USB ports simply do not have the power to support one of these drives. The only way around this is to use a USB 3.0 Y cable. This cable uses 2 USB ports instead of 1 and should draw enough power to boot the device up. They can be picked up on eBay pretty cheaply.
Anything else?
If in doubt try using the Zalman in a USB 2.0 port and compare results. If you still have issues contact Zalman support, I found them to be very polite and helpful.
So is it worth it?
Absolutely! Combining all your optical media and USB sticks into one unit makes life as an engineer so much easier. With simple controls and fast data transfer you will never look back.
If you would like any more information on this product or any IT support please give us a call on 0114 299 4050.