In addition to personal email addresses, most businesses utilise shared mailboxes – for sales, support, admin or something where a whole team of people need to receive communications.
Up until now though, there hasn't been an easy way to see shared mailboxes on mobile devices. There has been a way to add them using an IMAP4 workaround, but at best it's clunky and at worst it's a nightmare to maintain. It also means that because of the connection method, the mailbox should be licensed, which is not something that is normally necessary for a shared mailbox.
It is not surprising then that shared mailbox functionality for mobile devices has been one of the most requested features for the Outlook Mobile team. Well, it seems that Microsoft heard our cries because it is finally here!
The update allows you to connect, read, write and send emails from Exchange Online Shared Mailboxes using Outlook for iOS and Android - if you are using Microsoft Sync Technology to sync your mobile devices.
Microsoft Sync Technology is a new connector protocol that Microsoft has developed specifically to sync Outlook Mobile clients. To find out if your organisation is using it on their Office 365 tenant, take a look in the settings of your Outlook mobile app.
Tap on your account icon at the top of the screen, then tap on the settings cog at the bottom of the screen. Tap on your email account and you should see this screen: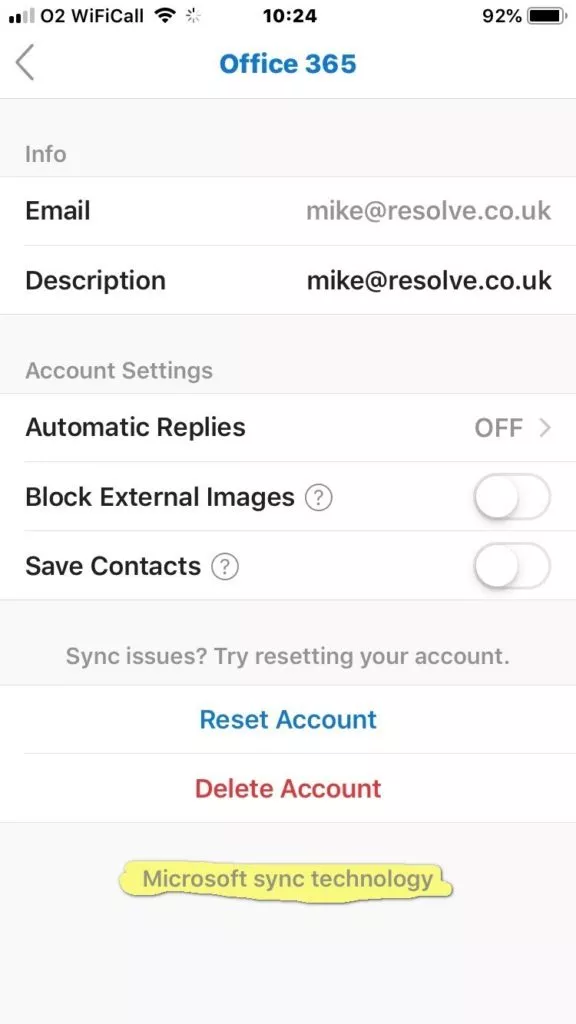 If you see the highlighted text, you are using the new connector protocol and you should soon be able to connect to your shared mailboxes. If you don't see it but desperately wish you could, have a chat with your IT support.