Outlook Web Access (OWA) provides access to your Office 365 mailbox without the use of a dedicated mail application like Outlook. Reaching OWA only requires a web browser which means it can be used on any operating system including macOS. Once logged in, you'll be able to send and receive emails as normal, as well as many more features.
What Do I need? 
Simply go to https://outlook.office365.com and log in with your email address and password. By connecting to Outlook in the browser you get direct access to the mail server and as a result will see your entire mailbox in real time. There is no delay between an email arriving in your inbox and being able to read it. There is no chance of missing the message arrival as you don't need to wait for the application to sync and download a copy to your machine. It is read directly on the server.
A Complete History
The desktop version of Outlook uses a feature called cached exchange mode which means it downloads a copy of your emails to the machine. These local copies are stored in a single file which has a size limit of 50GB. To prevent it reaching the maximum capacity too quickly there will be a cap on how far back your email history will be in the Outlook application, usually six months. This is only a cap on cached email, a simple clicking "see more email on the server" will reveal all. OWA does not download any local copies so it can show you everything in the mailbox since its creation.
What can it do?
The outlook desktop application has been around for years and has seen many iterations. Each version has added new and improved features. OWA provides the same functionality and will be adding more features as time goes by and doesn't require a software license. As soon as you log in to Outlook Web Access you'll find the layout familiar from the desktop application and will be sending and receiving emails immediately. Here are some of the features that are not as well known…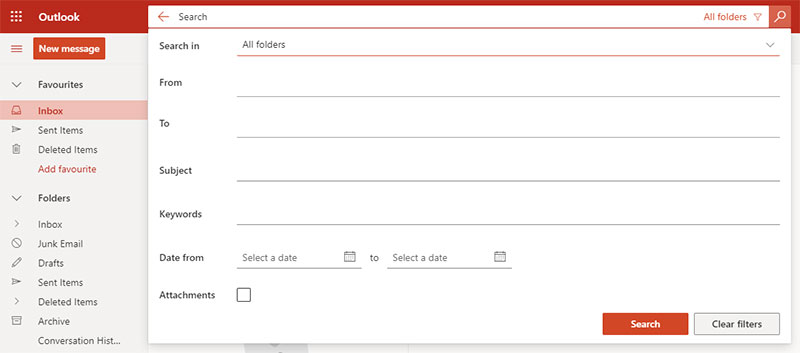 Advanced Search
While the desktop version allows you to search for emails it only provides the options to search in specific locations (advanced search is only available through clicking in the search box and then opening the search toolbar). OWA allows you to not only search in these same locations but also add filters for the sender, subject, date range keywords and whether it has any attachments.
Consistent Layout
OWA allows you to customise the layout of the mailbox such as the colour scheme, focused inbox, display density, the location of the reading pane and how to sort emails. These settings will be saved so that when you access OWA from a different browser on another machine entirely you can continue in the same environment.
Integration
Outlook in the web browser still offers the same integration with other office features like your calendar, tasks, teams and even OneDrive. OneDrive integration allows you to easily attach files to emails or simply send a link for the recipient to access the file directly.
Shared Mailboxes
When you login to OWA you'll be presented with your own account but might be wondering about the shared mailboxes you need to reach. You can open as many shared mailboxes as you need in their own browser tabs. By clicking your name or photo in the top right corner of the screen you'll find an option to Open Another Mailbox. Type in the address of the mailbox you need to access and then click open.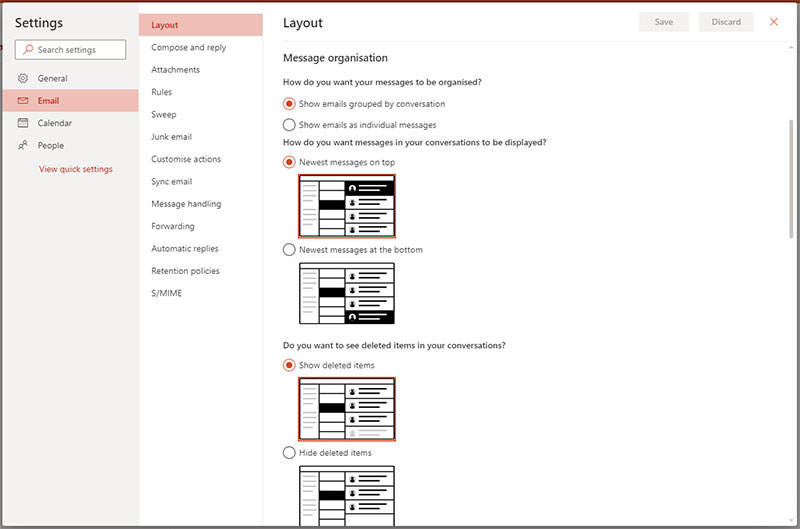 Advanced Options
Outlook Web Access has many options that can be used to help keep your mailbox tidy and professional. Clicking the settings cog icon along the top will show some of the common options. Clicking the "View all Outlook Settings" link at the bottom will give you the ability to greatly customise the mailbox. Here you can set up your signature, email forwarding and automatic replies for when you're out of the office.
You can adjust the finer details like what buttons to display when browsing though the inbox and composing emails, how to display the sender's information, whether to show the from field, default font and text formatting.
The junk email section shows you the list of blocked and allowed senders as well as enabling you to add and remove them as you wish. If an email from a contact has started going into the junk folder you can add their domain to the Safe Senders list.
You can also set up set up mailbox rules that determine what to do with inbound messages based on the criteria you set. Sweep rules can accomplish a similar task for emails already in the inbox. You can instruct it to move all emails from a folder to another one or even the deleted items folder, always keep the most recent email and delete all old versions and move messages older than 10 days.
In Conclusion
Outlook Web Access gives users the ability to access all their emails instantly, on any system in a consistent layout. You can see the entire mailbox history and receive new messages instantly. Accessing it in the browser means you don't need to install the desktop application and can use any system whether it's Windows, macOS or Linux. You can even use the browser on you phone or tablet. The way you customize OWA is retained so you only need to do it once. You can access the same resources such as calendars and shared mailboxes and the advanced search makes digging out that old email a doddle. OWA will continue to provide the same functionality as the Outlook application but in the most accessible environment.