Following Edward Snowden's revelations last year, encryption is a topic frequently mentioned in the news and media. I thought I'd join in and introduce our readers to a recently updated feature of Microsoft Office 356: Message Encryption.
Message Encryption comes as standard with Office 365 Enterprise E3 and E4 plans. This feature is included in the Windows Azure Rights Management subscription which can be added to other packages for an additional fee.
What is it?
Message Encryption lets email users send encrypted messages to people inside and outside their organisation. Designated recipients can easily view their encrypted messages and return encrypted replies with protection from unauthorised access, regardless of the email provider, whether it's Outlook.com, Yahoo, Gmail, or another service.
It's hard to think of a business nowadays that doesn't require a level of confidentiality, from sending a contract to a client, or important financial information that must be transmitted securely.
How does it work?
Administrators can enable Office 365 Message Encryption by creating Exchange Transport Rules from the Admin Centre, which determines under what conditions email messages should be encrypted. For example, rules can be configured to encrypt messages that have a specific key word in the subject or body of a message. Alternatively an entire mailbox can be enabled to send all messages as encrypted.
Email recipients would just need to follow instructions in the message to open the attachment and authenticate it by using a Microsoft account or a work account associated with Office 365. If recipients don't have either account, they're directed to create a Microsoft account that will let them sign in to view the encrypted message. Alternatively, they can choose to get a one-time pass-code to view the message. After signing in or using a one-time pass-code, recipients can view the decrypted message and send an encrypted reply.
What does it look like?
Setting up the transport rules is simple. Administrators simply select the action to apply encryption or remove encryption in the Exchange Admin Centre.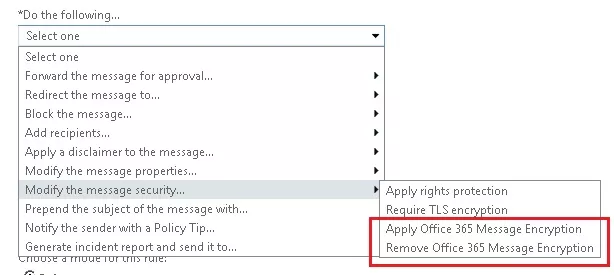 Once the admin has created a rule if anyone in the company sends a message that matches the conditions, the message is encrypted using Office 365 Message Encryption.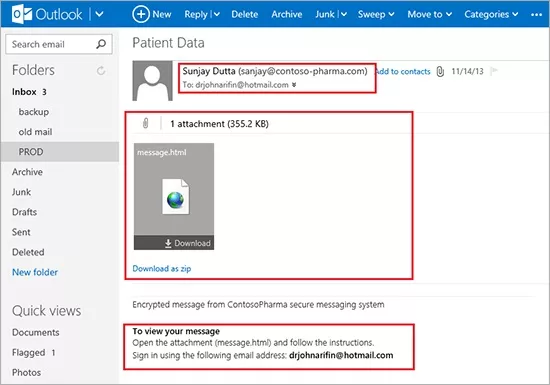 Here's how the encrypted message appears as an attachment in a message in the recipient's inbox, with instructions for how to view it.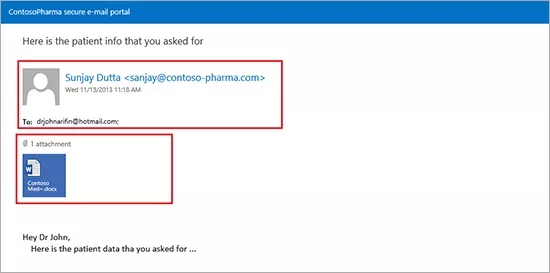 Viewing the message is a matter of just following some simple instructions for authenticating via an Office 365 ID or Microsoft Account. Once authenticated, the content of the encrypted message appears in a new browser window.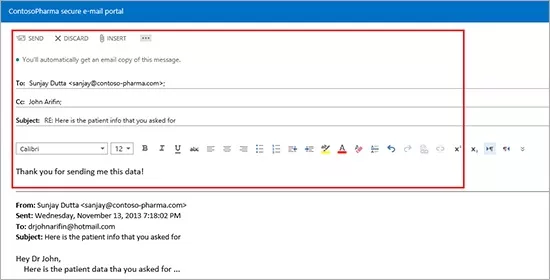 The Message Encryption interface is based on Outlook Web App so it looks like most email clients and is easy to use. When the recipient replies to the encrypted message they have received, the reply is also encrypted.
If you think this feature would be good for your business or are interested in using Office 365 then feel free to get in touch!