Microsoft Windows Small Business Server (SBS) is a great product that is sadly going "end-of-life" at the end of this year. It is great for small businesses or anyone looking for a low cost server that can handle email, file management or user control. What makes SBS unique is how you manage it. The usual method of using Server Manager, Active Directory, etc is replaced with the SBS Console.
Windows SBS does a lot of configuration for you in the background. This can be very handy, but also means that almost all changes need to be made through the SBS Console. This includes creating new user accounts, creating shares and configuring VPNs. If settings are configured using the Standard Server tools, you will find Windows SBS starts to behave a bit strangely!
Password policy changes are made to the default domain policy GPO and by default are applied to the whole domain. It can be useful to have a password policy that enforces complex passwords and makes users reset them fairly regularly. A strict password policy increases the security of your network and makes it less vulnerable to hackers. However, be prepared to reset a few forgotten passwords from the server.
Changing the Default Password Policy
Default Password Policy should be altered in the console (if you want to keep Windows SBS happy). In order to do this take the following steps:
Open the Windows SBS Console.
On the navigation bar, click the Users and Groups tab
On the User tab, under User tasks, click Change password policies.
On the Change Password Policies page, do the following:
In the Password expiration section, modify the value of Max Password Age (Days), if you want to change the number of days after which network users must change their user account passwords.
In the Password requirements section, define the password complexity and password length requirements.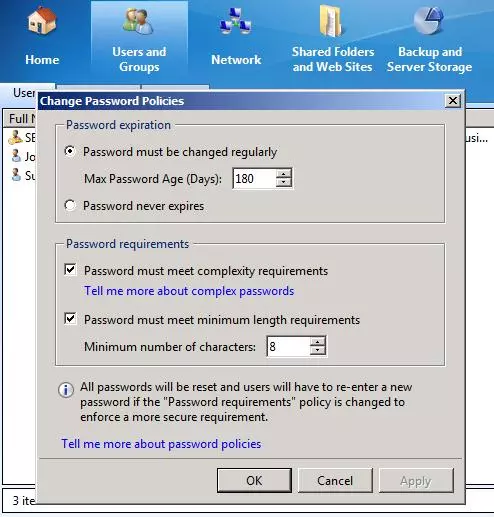 Click Apply, and then click OK.
These changes will apply instantly to all users with the default domain policy applied. By default this is all users, including administrators, so consider the options carefully before you make any changes.
So just remember, next time you want to make some changes in SBS, don't make things complicated for yourself, just go straight to the console.