Whether you're a Mac or a PC, it's quite likely you have at least some of your music collection stored in iTunes. If you're anything like me, your collection has just got messier as it has grown! I always intend to sit down and tidy it up, but never quite get around to it. When I do finally get tackle my 100GB collection, I had better get to know some of the tools I'll be using.
Understanding the iTunes Structure
Before you reorganise the media stored within iTunes it's key to understand how it works. iTunes is a database that links to the media files stored within the iTunes folder.
On a Mac, this folder would be found in home folder>Music>iTunes. On a Windows machine this would be found in Computer>My music>iTunes. The iTunes folder also contains a library file which holds all the information personal to you e.g. your Apple ID, your playlists, ratings and layouts.
Just to complicate things a little further, the organisation of the iTunes folder varies depending on which version of iTunes you are running.
For iTunes 8.2.1 and earlier, music files are kept within Music/iTunes/iTunes Music. Since iTunes 9 the folder structure has been reorganised to take into account the variety of media stored within iTunes.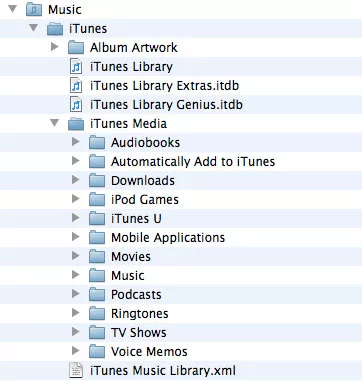 To upgrade the iTunes library select file>Library>Organise library and check 'Upgrade to iTunes Media organization' and click 'OK', depending on the size of your library this may take a short while to complete.
Backing up your iTunes library
Before making any changes to iTunes and your music collection it is always a good idea to back it up first. The first step is to consolidate the library to ensure that copies of all media files are stored within the iTunes folder. Use File>Library>Organise Library and check 'Consolidate files', and click 'OK', depending on the size of your library this may take a while to complete.
Once the iTunes library has consolidated, the whole iTunes folder can be copied and moved to a temporary location whilst you work on your default location.
Deleting duplicates
iTunes collates media from all over your computer and it's easy to end up with multiple copies of albums, let alone tracks. iTunes has a built in feature that will filter out all other songs in your library and show just the media it believes to be duplicated, select File > Display Duplicates.
This will show all the files with similar names, not just the additional version, as songs may appear on more than one album e.g. the original and the greatest hits.
To delete the duplicates select the tracks, using cmd or ctrl to select multiples, right-click and choose delete. iTunes will ask what to do with the original file, in some cases you may want to keep it, but you may find you have multiple copies of media within the iTunes folder and that these are the cause of your multiple entries within the iTunes library.
There are also various pieces of software that will attempt to do this automatically for you, see the links at the end of article for some suggestions, but if these fail you may have to resort to the manual method.
Adding additional information to files
By default iTunes organises music by artist first and then by album. This can cause problems with albums with multiple collaborators or your 'Best of Motown' collection which shows up as 15 separate albums.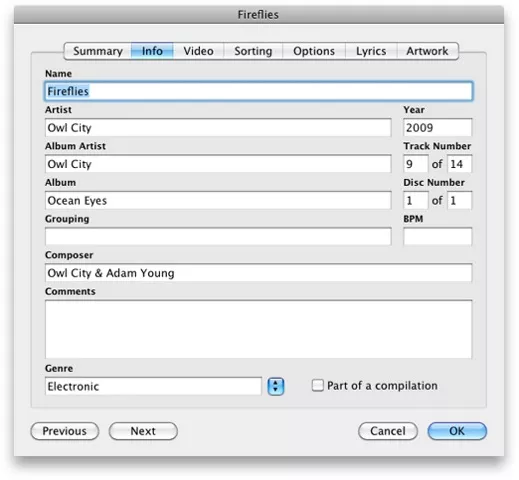 To fix this issue select all the tracks together, right-click and choose 'get info'. iTunes will warn you that you are editing multiple entries, so click OK. On the info tab check the 'part of a compilation' box, type 'various artists' in the 'album artist' box. Ensure that the album title is the same for all the entries, and click OK.
This method will ensure that each track keeps the information for the artists and composer, whilst the album artist information that iTunes uses for sorting is generic for all tracks in the album. Long live the compilation!
Handy Software
You may find you need a little help along the way, and there are plenty of pieces of software out there to help tidy things up a bit. Here are just a few to try out;
meta-Tunes
meta-Tunes is a free piece of software that will automatically rate you songs based on play counts, track down missing files and folders, find missing art work and automatically remove duplicates tracks. Unfortunately it only works for iTunes 9 or later running on Windows XP, Vista, 7, 8.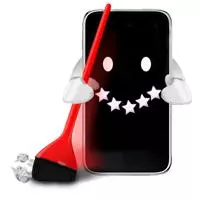 Rinse
Rinse is a free piece of software for Mac OS X and Windows to help automate the organisation of your iTunes library. It removes duplicates, repairs misspelled songs, artists and albums details, adds missing album art work, and fills in the blank data.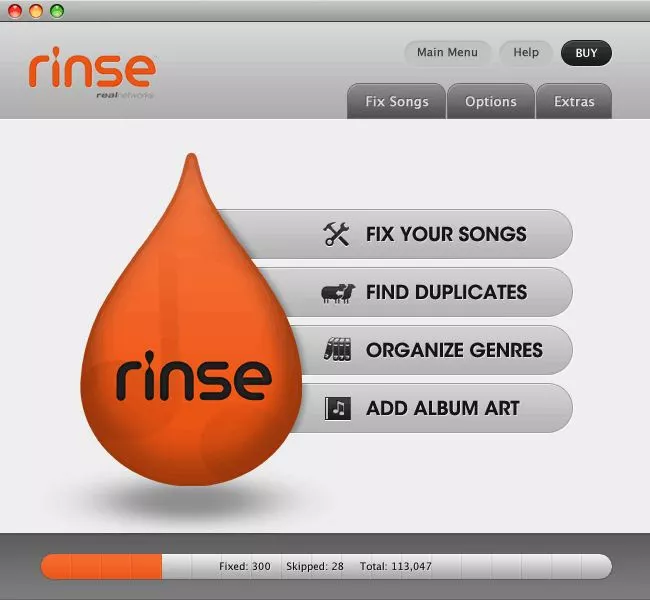 TuneUp
TuneUp is a plug in for iTunes which cleans mislabelled tracks, finds missing album artwork deletes duplicates and updates with the latest news about your favourite artists including concert dates. A trial version with 25 free clean ups can be downloaded to test it out before you buy. You'll find it all here.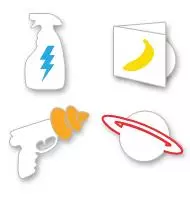 iTunes Folder Watch
iTunes Folder Watch is an application that can be used to continually watch the folders you specify for new iTunes compatible files, it will then automatically import them into the iTunes library. Particularly useful if you work with multiple hard drives or shared folders. Check it out here.