Graphic Ports and Display Interfaces
S-Video
S-Video has a high quality analogue signal and was the standard for video and TV until the arrival of HD and HDMI.

Composite
Composite or RCA is has the lowest quality signal but is ok for video transfer. Another type of video cable which uses RCA sockets (phono type) with much higher signal quality is component video connection which has separate RGB cables. These are not widely used.

VGA
VGA is still popular even though it has been around since 1987. It uses analogue signals (as opposed to digital) The plugs and sockets are blue and have 15 pins. Cables can be up to 15 meters in length, although 50 meter high quality cables do exist.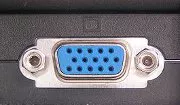 DVI
DVI became popular in about 2005 is a digital interface. It is still widely used but might be replaced eventually by 'Display Port'. It provided digital signal and has 24 pins. The 4 extra pins sometimes included are for analogue signal. The interface is designed to transmit uncompressed digital video and can be configured to support multiple modes such as DVI-D (digital only), DVI-A (analogue only), or DVI-I (digital and analogue). It is possible to buy DVI to HDMI converter cables.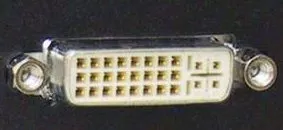 HDMI
High-Definition Multimedia Interface. This is a totally digital connection which includes high quality audio.
It resembles a USB port but with tapered corners. HDMI supports two-way communication between the video source (e.g. DVD player and DTV), enabling new functionality such as automatic configuration and one-touch play. The maximum cable length is 10 meters without the use of a repeater, although Triple shielded 50meter cables are available.
HDMI is fully backward compatible with DVI compliant devices, however some PCs with DVI will only support Monitors but not television formats.

DisplayPort
Looks very similar to HDMI but has only one corner bevelled. It has 20 tiny pins around a central plastic stip. (like USB) It is becoming more widely used in computer monitors.
DP support the following: 3840 x 2400 at 60Hz, or a 3D display of 2560 x 1600 at 120Hz. High Definition Formats audio (MAT as Dolby, DTS HD, BD, etc).The possibility to connect up to four monitors with a resolution of 1920 x 1200 or two 2560 x 1600.
The DisplayPort signal is not natively compatible with DVI or HDMI. However, dual-mode DisplayPorts (marked with a DP++ logo) will transmit a single-link DVI or HDMI signal across the interface and use a passive adapter that selects the desired signal. On the other hand, VGA and dual-link DVI, require active adapters, and do not require dual-mode DisplayPorts. Dual-link DVI adapters rely on an external power source.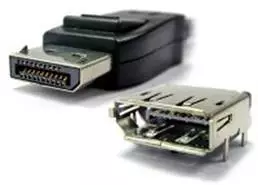 Mini Display Port
Mainly used on Apple laptops and computers.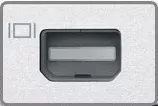 Mini-DVI
Mainly used on Apple laptops and computers.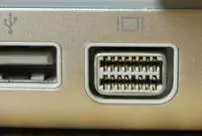 Thunderbolt
Thunderbolt is an interface from Intel, first available on new Apple MacBook Pro notebooks. It can be used to transmit graphics as well as data. It supports two 10 Gbits/s bi-directional channels on a common transport for 40 Gbits's max aggregate throughput. Both PCI Express and DisplayPort protocols are supported on top of that transport.
Initially Intel announced the technology in September 2009 under the name Light Peak as it was meant to be use fibre optics. At the moment it uses copper but Intel hope to convert it to optical in the future.

Resolutions (horizontal)
| | |
| --- | --- |
| 4:3 | 16:9 wide |
| XGA - 1024 | WXGA 1280 |
| SXGA - 1280 | WXGA - 1280 |
| UXGA - 1600 | WUXGA - 1920 |
| QXGA - 2048 | WQXGA - 2560 |
| (Full HD - 1600 x 1080 ) | |